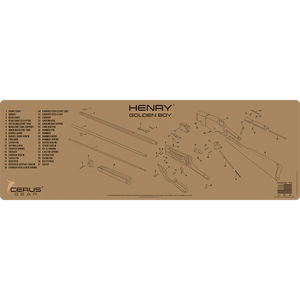 Henry Golden Boy CLEANING MAT - 12" X 36" TAN (CERUS)
The Henry Golden Boy is a masterpiece of crafted gunsmithing. You are going to want to keep this bad boy clean. Buy a schematic cleaning mat today!
•Lightweight, 
heavy duty cleaning mats
 are the perfect addition to your armorer's bench. 
•Spacious 
12" x 36"
padded work area
•Non-slip 
textured rubber base
 protects your work surface 
•Constructed of 1/8" (3mm) 
vulcanized rubber
 with a soft heat bonded polyester protects your firearm from scratches. 
•Dye sublimation printing 
won't wear or rub off
• Solvent and oil resistant
Designed and printed in the USA